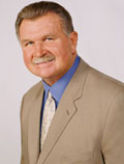 Mike Ditka
Former NFL Player, Head Coach, Super Bowl Champion, and Broadcaster
ShareAdd To My FavoritesPrint Profile
Why Wait?
If you are interested in me for your event send a message.
Find out my availability, price, and additional information to help you decide.
Send Message
Profile
Mike Ditka as a player
Mike Ditka (born October 18, 1939) is a former NFL player, coach, and television commentator
best known for his 11-year stint as head coach of the Chicago Bears. He is one of only two men
to have won a Super Bowl as a player, assistant coach, and head coach.
Player
After an All-American senior season at Pitt in 1961, Ditka was drafted to play tight end by the
Bears. His presence ws immediately felt. In his first season, Ditka had 56 receptions, introducing
a new dimension to a tight end position that had previously been dedicated to blocking. His
success earned him NFL Rookie of the Year honors. He continued to play for the Bears for the
next five years, earning a Pro Bowl trip each season. He was traded to the Philadelphia Eagles in
1967, where he spent two seasons, before being shipped off to the Dallas Cowboys in 1969. He
spent four seasons with the Cowboys, highlighted by a touchdown reception in the Cowboys' 24-
3 victory over the Miami Dolphins in Super Bowl VI.
In 1988, his fearsome blocking and 427 career receptions earned him the honor of being the first
tight-end ever inducted into the Pro Football Hall of Fame.
Coach
Retiring after the 1972 season, Ditka was immediately hired as an assistant coach by Cowboys'
head coach Tom Landry. Ditka spent nine seasons as an assistant coach with the Cowboys.
During his tenure, the Cowboys made the playoffs eight times, won six division titles and three
NFC Championships, including the one preceding their Super Bowl victory in 1977.
In 1982, Ditka left the Cowboys to become head coach of the luckless Bears. Reversing the
Bears' pitiful record of only two winning seasons in the previous nineteen, Ditka led the Bears to
six NFC Central titles and three tripd to the NFC Championship. Ditka's coaching career hit its
pinnacle in 1986 with a 42-10 trouncing of the New England Patriots in Super Bowl XX.
Football commentators widely regard the Bears defense in 1986 as one of the best ever.
He was awarded Coach of the Year honors in 1985 and 1988 by The Sporting News, the
Associated Press, and pro football writers.
He left the Bears in 1992. Four years later, he returned to coach the New Orleans Saints. Over a
total of 14 seasons as a head coach, Ditka amassed a record of 127-101-0.

Broadcaster
After leaving the Bears in 1992, Ditka took a broadcasting job with NBC, working as an analyst
on NFL Live and as a color commentator for many other NBC broadcasts. Ditka has appeared in
countless commericals and has done guest spots and cameos on shows from L.A. Law to
Saturday Night Live.
Philosophy
Ditka is known in the sports world for his gritty approach to winning and a fiery temper. Mike
leads by his code word ACE: Attitude, Character and Enthusiasm.
Documented Ditka witticisms include:
"Success isn"t measured by money or power or social rank. Success is measured by your
discipline and inner peace."
"Attack always."
"If you"re not in the parade, you watch the parade. That"s life."
"You're never a loser until you quit trying."
Class of 1988
Tight End >>> 6-3, 228
(Pittsburgh)
1961-1966 Chicago Bears, 1967-1968 Philadelphia Eagles, 1969-1972 Dallas Cowboys
Michael Keller Ditka. . .Consensus All-America, 1960. . . Bears' No. 1 pick, 1961. . .First tight
end elected to Hall. . . Fast, rugged, outstanding blocker, great competitor. . .Big-play star of
Bears' 1963 title team. . . Scored final touchdown in Cowboys' Super Bowl VI win. . .Rookie of
the Year, 1961. . . All-NFL four years, in five straight Pro Bowls. . .Career record: 427
receptions, 5,812 yards, 43 TDs. . . Born October 18, 1939, in Carnegie, Pennsylvania.
Mike Ditka, the No. 1 draft pick of the Chicago Bears in 1961, introduced a new dimension to
the tight end position that once was viewed primarily as an assignment for a tough, talented
blocker. Ditka proved to be a superior blocker but he also became one of the first tight ends to
catch a large number of passes.
He startled opponent defenses with 56 catches for 1,076 yards and 12 touchdowns in his Rookie-
of-the-Year campaign in 1961. Three years later in 1964, he had 75 receptions, a season record
for tight ends that lasted until 1980 and the era of the 16-game season. The 6-3, 225-pound
native of Carnegie, Pennsylvania was a consensus All- America in 1960 while playing for the
University of Pittsburgh.
He moved into the Bears' starting lineup at the beginning of his rookie season and didn't miss a
start in 84 games with the Bears. He earned All-NFL honors four straight seasons from 1961
through 1964 and was a Pro Bowl choice after each of his first five seasons. He wound up his
12-year career with 427 receptions for 5,812 yards and 43 touchdowns.
At the time of his retirement after the 1972 season, he ranked second among all tight ends in
receptions. In 1967, Ditka was traded to the Philadelphia Eagles. An injury in the second game
that year aborted his consecutive-game streak at 66. He missed eight games in two years with the
Eagles before moving on to the Dallas Cowboys in 1969. The fiercely determined and
competitive Ditka regained much of his old form in four years in Dallas. His best campaign there
was in 1971 when the Cowboys won their first Super Bowl championship. Ditka had 30
receptions that year and he scored the final touchdown in Dallas' 24-3 win over the Miami
Dolphins in Super Bowl VI.