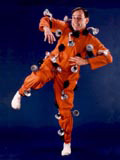 Michel Lauzière
Master of the Unusual
ShareAdd To My FavoritesPrint Profile
Why Wait?
If you are interested in me for your event send a message.
Find out my availability, price, and additional information to help you decide.
Send Message
Profile
How can one best define Michel Lauzi're? He is a combination of inventor, comedian, acrobat, magician, and juggler, rolled up in one charismatic "Master of the Unusual". Michel Lauzi're presents a great performance based on his physical and musical skills. He is a powerful visual comedian who has proven access to all frontiers.
Michel's show features numerous innovative and dazzling props. From entering a huge balloon to the musical theme, 2001 Space Odyssey, to playing classical and popular music with his famous horn suit, water guns, kitchen utensils, or absolutely anything he can find, Michel Lauzi're reveals some of the most original visual gags ever performed.
He can perform in four languages: English, French, Spanish, and German. Lauzi're has performed his one-man stage show on 5 continents. He has literally traveled the world performing countless shows since 1989. His original acts are enjoyed by an estimated 1 billion viewers. Any skeptics?
Web link: www.michellauziere.com