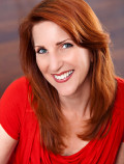 Maryellen Hooper
Award Winning Stand-up Comedian
ShareAdd To My FavoritesPrint Profile
Why Wait?
If you are interested in me for your event send a message.
Find out my availability, price, and additional information to help you decide.
Send Message
Profile
A veteran in the world of stand-up, Maryellen Hooper's comedy has taken her from clubs and colleges to theaters and television. She's appeared on 'The Dennis Miller Show', 'The Martin Short Show', 'The Tonight Show' with Jay Leno and has had her own ' hour special on Comedy Central called 'Lounge Lizards'.
In 1998, the comedy industry awarded Maryellen 'Female Comedian of the Year' at the American Comedy Awards.
A physical, story-teller, Maryellen Hooper has carved out a very successful stand-up career for herself. Her act is an ever-evolving story about her life as a woman, wife and mother. Never crude or offensive, her accounts of life's little annoyances leave audiences exhausted from laughter. From home repairs on her family's 'Fixer Upper' to colicky babies, no story is too sacred to share with her audiences.
Notable Live Appearances
Montreal Just For Laughs Comedy Festival
Harrah's Improv – Las Vegas
Awards and Designations
"Female Comedian of the Year' at the American Comedy Awards – 1998