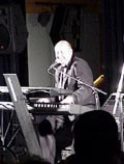 Martin Janovsky
Comedy Music - Piano
ShareAdd To My FavoritesPrint Profile
Why Wait?
If you are interested in me for your event send a message.
Find out my availability, price, and additional information to help you decide.
Send Message
Profile
Martin's stage performance consists of music and comedy. The comedy revolves around Martin's supposed misunderstanding of the English language. Being new to Canada (1986) he finds it hard to understand our language, or so he would have you believe. He finds new meaning in old sayings. Martin's first love is the piano, and when he touches the keys the high energy performance really comes alive. The repertoire consists of novelty songs and some traditional songs from his home country the Czech Republic. This comedy performance adds class to any event. Martin performs in a tuxedo and an added touch is to use a grand or baby grand piano for the performance.
Notable Live Appearances
Expo '86 (Vancouver, B.C.) – Martin's band 'Hipcheck' is house band for Saskatchewan Pavilion
Prague's Big Band – Extensively toured Europe
Stage Appearances With
Career Highlights
Prague Conservatory of Music (Czech Republic) – graduate
Trinity College of Music (London, England) – Licentiate diploma
Saskatchewan Registered Music Teacher Association – piano teacher
1989 Jeux Canada Games – writer – music
Saskatchewan Place – writer – grand opening music
Canadian Junior Figure Skating Championships – writer – music