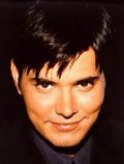 Martin Dubé
Impressionist Entertainer
ShareAdd To My FavoritesPrint Profile
Why Wait?
If you are interested in me for your event send a message.
Find out my availability, price, and additional information to help you decide.
Send Message
Profile
Talent – Nostalgia – Tenacity … are only some of Martin Dub"s professional TNT qualities that propel his explosive persona on stage. First you get goose bumps… then your skin gets tingly… your body begins to sway. These are only some of the sensations that you feel from one of Martin Dub"s performances. Martin's dynamite stage presence grabs your attention. Then, his five octave voice takes over, leaving any singer "green with envy" and the audience gasping for more.
At an early age, Martin began to develop his impersonations of voice and sound. This blossomed into a talent that would change his life forever. This multi-talented rising star has already catapulted himself into the league of world class entertainers. His cross-over entertainment style and his ability to perform in both English and French, makes this versatile artist ideal for all occasions.
With over 400 impressions mastered, this talented performer is ready for any event that comes his way. Martin Dub' is a symphony of voices and comedy fused together in one package to deliver a total entertainment experience.
The Martin Dub' corporate & special events show consists of numerous impersonations. When combined with an innovative comedic score, they become an ensemble of laughter, fun and comedic harmony! Join Martin as he takes you on a journey through his "Tribute to Broadway", "Barry X-Wave – radio DJ", "Tribute to Disco", "Name That Film" – interactive musical guessing game – and much more…
Some of Martin's musical characters include:
Louis Armstrong; Tina Turner; Jon Bon Jovi; Celine Dion; Stevie Wonder; Axl Rose (GNR); Billy Joel; Melissa Etheridge; Elton John; Luciano Pavarotti; The Platters; Rod Stewart; Chris de Burgh; Liza Minelli; Village People; Frank Sinatra … and many more!
Web link: www.martindube-ent.ca
Notable Live Appearances
Montreal Just For Laughs International Comedy Festival
Toronto Raptors Basketball
Royal Caribbean Cruise Lines
Houston Comets -WNBA