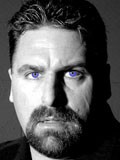 Marshall Ennis
International Strongman, Motivational Speaker. 'Maximize Your Potential',
ShareAdd To My FavoritesPrint Profile
Why Wait?
If you are interested in me for your event send a message.
Find out my availability, price, and additional information to help you decide.
Send Message
Profile
Strong in Body, Stronger in Mind. Marshall has spoken to over 4 million people in over 60 countries.
As an international strength athlete and a powerful entertainer, Marshall has hosted, produced, and competed in international strength events from Las Vegas, USA to Dubai, Saudi Arabia. One of Marshall's proudest accomplishments has been to create, host and produce the first international Strongman television series viewed around the world by millions of people which shows his personal desire to reach his uncapped potential. The show was called All Strength Challenge airing on the Outdoor Life Network (OLN). The shows had as many as 56 million viewers per week in 36 countries.
As a professional speaker, Marshall is unique in his understanding of the strength required to succeed in the face of extraordinary challenges. Marshall's audiences are enthralled with his physical world; inspired by his humble honesty; entertained by his experience; and provoked to reconsider the meaning of potential. With the use of impressive props and a captive audio visual presentation this 'Strong' message holds. This 6'3′ tall, 340 pound , 100 percent natural speaker, also tells a great story.
Marshall makes a remarkably strong impression' whether he's bending steel bars, tossing a Highland caber, or chained between two cars trying to drive away in opposite directions. Marshall inspires people to rework their ideas about limitation and potential. 'If your mind can conceive it and your spirit can believe it, your body can do it' ' that's the heart of Marshall's message.
Marshall was also a body guard for many famous people such as Tina Turner, Huey Lewis, Don Johnson, and Barbara Bush to name a few. He will tell some interesting stories.
When Marshall speaks to audiences about the mind & body connection and the power of focus, he has a completely original method of communicating the message. Marshall conceives and executes incredible tests of physical and mental strength to drive that message home.
When you invite Marshall Ennis to engage your audience, they leave refreshed, entertained, and driven with the desire to reach their potential.
Keynotes and Speaking Topics
Strong in Body, Stronger in Mind As a Strong motivational keynote speaker, Marshall's, customized, multi-media motivational keynotes are a complete way to show you the tools of linking the body and mind to conquer any challenge in your path. As individuals and teams you have the tools to 'get the job done', Marshall shares with you how to become the strongest at what you do.
Maximize Your Potential How can you maximize your potential to be the best in your field and stay above the competition. Learn how to fill your virtual toolbox in order to build the foundation to achieve those goals. Marshall shares with you how he discovered his toolbox and learned to use those tools that built his success and repaired his failures.
Customized: Marshall customizes each keynote to ensure each audience member is impacted by the message. Accompanying a questionnaire, Marshall also interviews participants prior to the keynote to insure your audience is targeted directly.
Career Highlights
Bodyguard for famous people such as: Tina Turner; Barbara Bush; Huey Lewis; Don Johnson