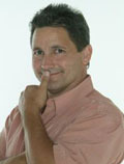 Mark Crocker
Ventriloquist
ShareAdd To My FavoritesPrint Profile
Why Wait?
If you are interested in me for your event send a message.
Find out my availability, price, and additional information to help you decide.
Send Message
Profile
Three decades of entertaining audiences across Ontario and Canada, has made Mark a favourite part of 1000`s of conferences, conventions and meetings for the corporate market. Mark Crocker's special blend of Stand up Comedy delivered through Ventriloquism, creates a wonderful mixture of Old versus New. What makes Mark perfect for business meetings and the like, is his ability to adlib, customize, and adjust his material for any given circumstance. All this without offending audience members. It is this gift that allows both independent, as well as corporate meeting planners to feel safe in recommending Mark Crocker to represent them or their conference centre. Providing a show that is not only hilarious, but extremely professional as well. A performance of sight and sound that will be remembered long after the meeting is over.
Mark Crocker is internationally recognized as one of North America's best ventriloquists. His unique ability to show off his skill in a variety of different settings account for his success across the continent. Mark's versatility is demonstrated by the cast of characters he deploys that leave audiences wanting more. Mark delivers versatility, skill and most importantly, lots of laughs. Mark Crocker was born in Hamilton, Ontario. At the age of 17, Mark taught himself this challenging art form called ventriloquism. Since 1977, he has been setting his mark with his unique live performances. Mark's list of credits is as versatile as his shows. He has shared the stage with such notables as Jim Carrey, Long John Baldry, The Good Brothers, The legendary Crowbar, and King Biscuit Boy, CBC icon David Broadfoot, Patrick McKenna (Red Green Show, Traders), Singing Sensations Carol Baker, Ian Thomas, Jim Cuddy (Blue Rodeo), and the Trailer Park Boys.
Mark's television work is as much off the screen as it is on, since he is also a sought after consultant and master puppeteer. He has appeared in a variety of programs, such as a national Barq's Rootbeer commercial, Cooking with Comics, the Doc Series with Billy Ray Cyrus, and Comedy at Club 54, to name a few. Mark's big screen debut came with the film "Silence" from Universal Pictures (Directed by James Wah, director of Saw 1 & 2).
Mark showcases his talents at countless corporate venues, special events, festivals, fund raisers, comedy festivals and casinos.
Stage Appearances With
Jim Carrey
The Good Brothers
Dave Broadfoot
Patrick McKenna
The Trailer Park Boys