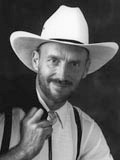 Kenny Shaw
Comedy Music, Guitar
ShareAdd To My FavoritesPrint Profile
Why Wait?
If you are interested in me for your event send a message.
Find out my availability, price, and additional information to help you decide.
Send Message
Profile
Kenny's show is laced with crafty impressions and musical tributes. He integrates the hits of contemporary entertainers from the past three decades with humorous sketches of Dr. Ruth, Stompin' Tom, Bob Dylan, Bob Marley, Ed Sullivan, The Beatles and many more! Kenny also brings together some unusual pairs on stage such as Reverend Jim and Jack Nicholson, Johnny Cash singing a duet with Dwight Yoakam and Elmer Fudd and Mr. Magoo. Kenny also performs his famous Waylon and Willie tribute. Kenny is a truly versatile top rank musician who is able to sing and play all styles of music including R&B, Country and Rock & Roll to name a few. Kenny customizes his material for each audience. He performs at many conventions and special events throughout the country.
Notable Live Appearances
Selected to open the Canadian Country Music Awards (CCMA) – Vancouver 1987, Ottawa 1989, Edmonton 1990, and Hamilton 1991.
Salmon Valley Music Festival
Merritt Mountain Music Festival
Calgary Stampede
Dauphin Countryfest
Big Valley Jamboree
Stage Appearances With
Brooks & Dunn
Blue Rodeo
Farmers Daughter
Waylon Jennings
Travis Tritt
Diamond Rio
Mark Chesnutt
Ricky Van Shelton
Tommy Hunter
Freddy Fender
BlackHawk
John Anderson
Juice Newton
Carlene Carter
Sammy Kershaw
Martina McBride
Vince Gill
Marty Stuart
Dr. Hook
Michelle Wright
Awards and Designations
British Columbia Country Music Association (BCCMA) – Entertainer of the Year for four consecutive years.