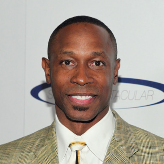 Kenny Lofton
MLB outfielder, Six-time All-Star, four-time Gold Glove Award winner
ShareAdd To My FavoritesPrint Profile
Why Wait?
If you are interested in me for your event send a message.
Find out my availability, price, and additional information to help you decide.
Send Message
Profile
Kenny Lofton is a former Major League Baseball (MLB) outfielder. Lofton was a six-time All-Star (1994–1999), four-time Gold Glove Award winner (1993–1996), and at retirement, was ranked fifteenth among all-time stolen base leaders with 622.
Lofton attended the University of Arizona on a basketball scholarship. The Wildcats made it to the Final Four in 1988. He did not join the school's baseball team until his junior year.
Lofton made 11 postseason appearances, including World Series appearances in 1995 and 2002 with the Indians and Giants, respectively. From 2001 to 2007, Lofton did not spend more than one consecutive season with a team. For his career, the Indians were the only team he played with for longer than one season and the only franchise he played for more than once. Lofton played 9 1⁄2 seasons with the Indians, helping the organization win six division titles. In 2010, he was inducted into the Cleveland Indians Hall of Fame.
During his professional baseball career, Lofton's single-season stolen base count led the MLB on three occasions and twice the American League (AL). In 1994 he led the American League in hits. Lofton broke Rickey Henderson's record of 33 career post-season stolen bases during the 2007 post-season. Of his base running, Frank White said, "Lofton has out-thought a lot of major-league players" and later, "a smart, complete baseball player.
Lofton had tallied a .299 career batting average with 123 home runs, 110 triples, and 1,442 runs in 1,967 games.[15] He was also a three-time MLB Player of the Week. Lofton played in 95 postseason games. In the playoffs for his career, he hit .247 with seven home runs and 34 RBI. Baseball historian Bill James named Lofton the "fastest player" and "best bunter" of the 1990s. On January 27, 2010, it was announced Lofton was selected as a member of the Cleveland Indians Hall of Fame. He was inducted on August 7.
Career Highlights
6× All-Star (1994–1999)
4× Gold Glove Award (1993–1996)
5× AL stolen base leader (1992–1996)
Teams
Houston Astros (1991)
Cleveland Indians (1992–1996)
Atlanta Braves (1997)
Cleveland Indians (1998–2001)
Chicago White Sox (2002)
San Francisco Giants (2002)
Pittsburgh Pirates (2003)
Chicago Cubs (2003)
New York Yankees (2004)
Philadelphia Phillies (2005)
Los Angeles Dodgers (2006)
Texas Rangers (2007)
Cleveland Indians (2007)