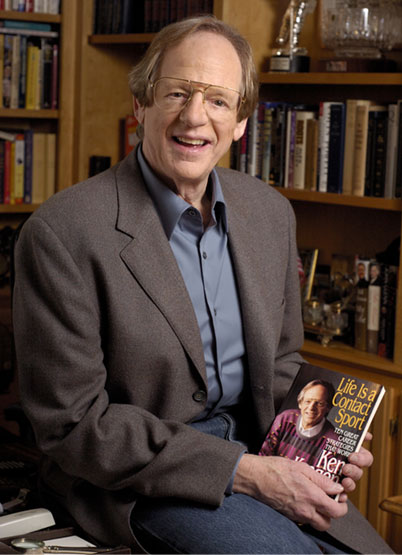 Ken Kragen
Creator and Organizer of We Are The World, Hands Across America. Manager for Kenny Rogers, Lionel Richie and more.
ShareAdd To My FavoritesPrint Profile
Why Wait?
If you are interested in me for your event send a message.
Find out my availability, price, and additional information to help you decide.
Send Message
Profile
A graduate of Harvard Business School, Ken Kragen's illustrious career far transcends the music and entertainment industries where he has spent many incredibly successful years. He has managed some of the world's most important entertainers, including Kenny Rogers, Lionel Richie, Trisha Yearwood, Olivia Newton John, The Bee Gees, Burt Reynolds, The Smothers Brothers and many others. He was the creator and organizer of the historic humanitarian projects "We Are the World", "Hands Across America", and Cisco System's "NetAid". Amazingly over 95% of the acts he managed have become stars, and 90% of the projects he created and spearheaded have achieved success.
During the past few years, Kragen has devoted an increasing amount of his time to teaching, speaking and writing as well as consulting work for leading corporations and many non-profit organizations. He has done work for Cisco Systems, New York Life Insurance, Eastman Kodak, The Hollywood Reporter and the Country Radio Broadcasters Association to name a few.
Kragen has also produced a variety of film and television projects, ranging from the ground-breaking "Smothers Brothers Comedy Hour" on CBS to Kenny Rogers five '"Gambler" movies, and numerous series, mini-series and films. In 2004, Kragen produced the "12 Dogs of Christmas" - a live action, full length feature film based on his daughter, Emma's, best-selling children's book. (www.12DogsofChristmas.com) To date this project has sold 600,000 books and 1,200,000 DVDs. Then, in 2012 he produced the sequel to that amazingly successful independent film, this time for Sony Pictures. Titled "12 Dogs of Christmas: Great Puppy Rescue" and like the original has a long life as a wonderful Christmas treat for the whole family.
Ken and his friend Quincy Jones produced a portion of the 1992 Presidential Inauguration for President Bill Clinton and Kragen recently helped stage a national campaign that got 1.3 million kids to stand up and take a pledge against bullying. He has written the best-selling book "Life is a Contact Sport" which is filled with unique and well tested career advice.
Kragen has lectured at Harvard Business School, USC, Loyola Marimont, the University of Tennessee and many other schools. After years of teaching career courses at UCLA's Extension Program Ken now teaches a terrific 10-week undergraduate course at the Herb Alpert School of Music on the UCLA campus. Called "Stardom Strategies for Musicians" it is based on his unique concepts of career development and formulas for advancing projects to a higher level of excellence. He tells his students "This will be the best course you've ever taken; it will be the most fun you've ever had in a class and it will change your life." He then makes sure he lives up to that promise. Guests at the most recent class included Lionel Richie, Quincy Jones, David Foster, Dave Koz and many of the most prominent and successful people in the industry. Check the class out at Ken Kragen UCLA Sizzle on YouTube.

Kragen is most proud of receiving the United Nations Peace Medal for the creation of "Hands Across America", and "We Are the World", making him one of a mere handful of private citizens to receive this honor. Among dozens of other awards Ken Kragen has been celebrated by the NAACP, the Los Angeles Advertising Women, and the Boys And Girls Club of America. He received two MTV Awards, an American Music Award, several Emmy nominations, EBONY's American Black Achievement Award, Manager of the Year Award from the Conference of Personal Managers and the International Citizen Of The Year Award from the International Visitors Council. He was Alumnus of the Year at his Alma matter, the University of California, Berkeley. He is the only individual ever elected President of both the Country Music Association and Academy of Country Music. He has served on several charity Boards including The Mr. Holland's Opus Foundation, Community In Schools and USA for Africa
Speaking and Consulting
A graduate of Harvard Business School, Ken Kragen has an impressive record of unprecedented success as a motivational speaker, career and marketing consultant and designer of non-profit events and strategies. He has consulted for Cisco Systems, New York Life Insurance, IBM, Polaroid, Interface Carpeting Company, The Hollywood Reporter and many more.
Ken has taught courses at UCLA, USC, the University of Tennessee, Loyola Marymount University, Harvard Business School, and many other schools and universities. Three times he has keynoted the Country Radio Broadcasters annual convention in Nashville. Recently he did a memorable presentation for his peers at the prestigious SANG (Speakers & Authors Networking Group) conference in Los Angeles.
Ken develops unique and creative concepts that demonstrate his gift for "thinking outside of the box" and creating a whole new package of ideas. He is an expert marketer. He creates fully integrated strategies that implement the vision of executive management and propel the sales force to higher levels of achievement.
Keynote Topics
"Accomplishing The Impossible" - Lessons learned from some of the most historic humanitarian events of all time.
"Life Is A Contact Sport" - The power of networking in the age of the Social Media explosion.
"The Magic of Threes" – A proven breakthrough marketing concept that can apply to anything and everything you want to sell.
"The Stardom Strategy" - Proven techniques to make you a star performer in whatever career you choose.
"How To Get Caught Telling The Truth" - The power of honesty and ethics as effective tools for your life and career.
"Doing Well By Doing Good" - Giving to get back.
Book
Best-selling book "Life is a Contact Sport" which is filled with unique and well tested career advice.
Manager for World Famous Entertainers
Kenny Rogers
Lionel Richie
Trisha Yearwood
Olivia Newton John
The Bee Gees
Burt Reynolds
The Smothers Brothers
Diamond Rio
Colin Raye
Gallagher
J. Geils Band
Harry Anderson
Harry Chapin
Kim Carnes
Lindsey Buckingham
Louie Anderson
Rich Little
Travis Tritt