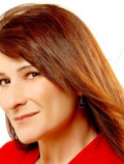 Kate Davis
Keynote Speaker, Humour Expert - 'Balancing Life With Humour' and 'Parenting With Humour'
ShareAdd To My FavoritesPrint Profile
Why Wait?
If you are interested in me for your event send a message.
Find out my availability, price, and additional information to help you decide.
Send Message
Profile
A speaker, writer, comedian, actress and mother of three, Kate Davis has the unique ability to find humour in any situation Theatrically trained in England, Kate returned to Canada to a successful run on Canadian stage and through the many stages of motherhood found a passion in comedy. A five-time nominee at the Canadian Comedy Awards and star of her own hour-long comedy special on CTV and the Comedy Network, Kate has appeared on Breakfast Television, Star TV, Toronto 1, Prime, WTN, TVO, CBC Radio One "The Debaters" and The Mom Show. Through a reinventive outlook, Kate created successful parenting with humour workshops. These have transformed to the full range of presentations, exploring the positive effects humour on life. From the corporate world to the bedtime story, Kate's insight and vision reveals the healing thread of humour. Kate has a monthly article in the Mom and Caregiver magazine and has been published in Today's parent magazine. Kate is proud to announce the release of her first book "The Breast Feeding Diaries" with Meadowbrook Press in the USA.
Television / Film / Radio
Comedy Now – CV/Comedy Network/SFA
The Debaters – CBC Radio
Open Mike With Mike Bullard – CTV/Comedy Network
She's So Funny – WTN
The Mom Show
Grumps – Prime TV
Friday the 13th – Actor
Keynotes and Speaking Topics
Balancing Life with Humour – "We are all jugglers and the first ball to drop is usually our own." Kate Davis has the unique ability to find humour in any situation and to offer creative solutions to defuse the frustrations in the home and workplace. Kate's generous insight and outspoken character, provides a powerful combination to help organizations empower their staff with effective tools for managing stress and sustaining motivation. Between our jobs, home, relationships with family, friends and co-workers learning how to balance our busy life demands a strong sense of Personal Development and most importantly a Sense of Humour. People, who attend Kate's "Balancing Life with Humour" lecture, leave with an understanding of practical techniques for refueling, rediscovering and reengaging their true selves. Learning to use humour as an instrument of communication creates an atmosphere of compassion, caring and productivity.
Funny Mommy™ Parenting with Humour Lecture and Workshop – "Your leisure time should not be folding laundry." This lecture/workshop gives parents, caregivers, educators, social service providers the tools to help defuse the chaos and stress of their lives through humour. Kate helps them to remember themselves, accept where they are and not feeling guilty about where they are not. It combines stand-up comedy with practical techniques to raise children. "Fun cancels out stress and brings everyone into the moment." This is the recipe for a healthy relationship when it comes to raising our children. Everything changes when we become parents, I think the show "Survivor" shouldn't take place on an island but a new parents' home. It's challenging not losing yourself in the process but with a few techniques likes being more playful and using your intuition life can be more joyful and relaxing. Discover the different ways that men and women deal with stress, techniques of dealing with sibling fighting and how to truly take care of yourself so you are able to be more present to the life you are living now. This lecture blends techniques of improvisation, visualization and affirmations. Parenting is a great lesson in letting go. You give birth, you let go. You nurse, you stop, you let go. They start school you, let go. They move out, you let go. That lesson of "Letting Go" is way easier with you in tacked.
INNOVATION THROUGH CONNECTIVITY We want the fasted most stable connection possible in all areas of our lives In "Connectivity," Kate Davis shows the audience how to establish, cultivate, and keep connections that lead to productivity and success both in business and our personal lives. Whether it's a CEO connecting with their staff, a client connecting with their customer, or departments connecting with other departments, good communication and rapport within an organization is the source of a flow that leads to creativity, quick resolutions, and a deeper understanding among staff of the overall business purpose. Staying connected to colleagues keeps things on track and is one of the most important elements to an organization's success.
Notable Live Appearances
The Fresh Faces Showcase – Featured Stand-Up at The Las Vegas Comedy Festival
Stage Appearances With
Books and Articles
The Breast Feeding Diaries
Career Highlights
Five time nominee for Canada's Funniest Female Comic – Canadian Comedy Awards