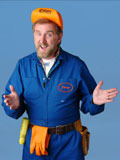 Jimmy the Janitor
Character Comedy
ShareAdd To My FavoritesPrint Profile
Why Wait?
If you are interested in me for your event send a message.
Find out my availability, price, and additional information to help you decide.
Send Message
Profile
Jimmy the Janitor is the best of Maritime Canadian Comedy, rolled up into a colourful character. Jimmy in reality is not a janitor. No, Jimmy is the creation of long time broadcaster, Sandy Gillis. One of those crazy Cape Bretoner's. Jimmy the Janitor first hit the Maritime radio airwaves in January 1987. In his daily two minute comedy feature, Jimmy delighted listeners young and old. Gillis spent twenty-five years in radio and television. The last twenty he managed radio stations for Maritime Broadcasting System in New Brunswick. He retired from radio at the young age of 45. In 1992 Jimmy released his first comedy cassette. Since that time Jimmy has released five more comedy cassettes. Jimmy's live performances touch on the personalities and funny situations "down home" in the Maritimes and is, in the words of "Jimmy" creator, Gillis, "A show I can bring my parents to". Good clean fun that appeals to audiences young and old. Gillis approaches the entertainment business with the same style and professionalism he insisted upon while running radio stations for twenty years.
Television / Film / Radio
Over 2000 radio shows
Christmas Daddies Telethon – Atlantic Television Systems