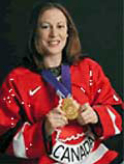 Jayna Hefford
Two time Olympic Gold Medalist
ShareAdd To My FavoritesPrint Profile
Why Wait?
If you are interested in me for your event send a message.
Find out my availability, price, and additional information to help you decide.
Send Message
Profile
Jayna Hefford is a women's ice hockey player. Hefford played forward for the Canadian women's team at the Winter Olympics in 1998, 2002 and 2006. Her goal in the gold medal game at the 2002 Winter Olympics was the gold medal winning goal.
In the 2006 tournament, Hefford scored three goals and added four assists to finish third on the team in scoring and Canada again won the gold medal. It was her second gold medal while participating in her third Olympics. She also won a silver medal with the Canadian team at the 1998 Winter Olympics in Nagano. Hefford has won the gold in six World Championships ' 1997, 1999, 2000, 2001, 2004 and 2007. In 1999 and 2000, Hefford was Team Canada's leading scorer. Her two third period goals in the 2000 championship game pushed the contest into overtime, allowing Canada the opportunity to win. She normally plays for the Brampton Thunder of the National Women's Hockey League.
Career Highlights
Olympic Gold – 2002 and 2006
Olympic Silver – 1998
World Championships Gold six times – 1997, 1999, 2000, 2001, 2004 and 2007