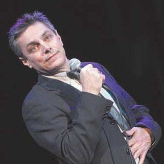 Jamie Hutchinson
Stand-up Comedian
ShareAdd To My FavoritesPrint Profile
Why Wait?
If you are interested in me for your event send a message.
Find out my availability, price, and additional information to help you decide.
Send Message
Profile
Jamie Hutchinson is a nationally touring comedian, originally from Nova Scotia on Canada's east coast, and now working out of Calgary, Alberta. Jamie Hutchinson has been entertaining audiences across the country for over 20 years. Delivering a smooth stand-up style to the comedy stage Hutchinson shares humour from his lifes experiences.

Jamie Hutchinson has also taken his talents from the comedy stage and has ventured into the world of film and television appearing on various programs.He has performed on CBC, CTV, GlobalTV and The Comedy Network. He has shared the comedy stage with Joan Rivers, Norm Macdonald, Dennis Miller, and performed on the Reel Madness Comedy Festival with Will Ferrell and Colin Quinn. He played the part of "Rocket Ronnie" on the hockey episode of 'Corner Gas' and he had a role in the Corner Gas movie "No Clue" as the Detective. Jamie tours regularly with Brent Butt. See why Brent Butt insisted on having Jamie Hutchinson on his most recent cross Canada Tour.