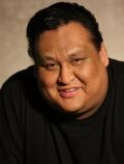 Howie Miller
Stand-up Comedian
ShareAdd To My FavoritesPrint Profile
Why Wait?
If you are interested in me for your event send a message.
Find out my availability, price, and additional information to help you decide.
Send Message
Profile
Howie Miller is one of the funniest corporate comedians in North America. He is a First Nation Descendant of the Cree Nation and was born and raised in Edmonton, Alberta, Canada. Howie Miller's quick wit and unique point of view on multi ethnic stereotypes is enjoyed by all audiences, regardless of age, race, or sex; and has garnered numerous television appearances and placed him in great demand on the corporate circuit. Howie's hilarious comedy, mixed with stellar impressions has the audience laughing from start to finish. His stand-up routine also includes entertaining stories about his son's overnight success playing a member of the wolf-pack in the blockbuster Twilight Movies: 'New Moon' & 'Eclipse'.
Howie Miller has been featured in his own half-hour special, 'Comedy Now Presents Howie Miller' and in "The Indian Comedy Slam, No Reservations Needed", which is currently airing on Showtime.
Howie has received acclaim all over North America, including New York, Los Angeles and the prestigious Montreal "Just for Laughs" Festival and has wowed audiences throughout the United Kingdom.
Howie Miller is also an accomplished actor and writer, having been nominated for a Gemini award in 2009 for 'Best Writing in a Comedy or Variety Program' for 'Caution: May Contain Nuts' which will be airing its second season on APTN in 2010.
Howie's side-splitting stand-up comedy routine will have your group rolling on the floor laughing and leave them begging for more.
Notable Live Appearances
The Winnipeg Comedy Festival
The Halifax Comedy Festival
Montreal Just for Laughs Festival