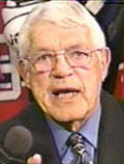 Howie Meeker
Famous Hockey Broadcaster
ShareAdd To My FavoritesPrint Profile
Why Wait?
If you are interested in me for your event send a message.
Find out my availability, price, and additional information to help you decide.
Send Message
Profile
Howie Meeker was born on November 4th, 1923 in Kitchener, Ontario. Howie Meeker played with the Toronto Maple Leafs starting in the 1946-47 season. Howie Meeker tied the NHL record of most
goals scored in one game by a player in his first season when he scored five goals against the Chicago Black Hawks on Jan. 8, 1947. That year Howie Meeker won the Calder Memorial Trophy as Outstanding Rookie of the Year. A back injury ended Howie Meeker's eight-year hockey playing career in the 1953-54 season. Howie Meeker finished with 83 goals and 185 points in 346 games, and four Stanley Cups, all with Toronto. During the early 1950s, Howie Meeker also balanced a second career as politician, sitting as a Conservative Member of Parliament. Howie Meeker was named Head Coach of the Leafs on Apr. 11, 1956, replacing ex-Hornet coach "King" Clancy. He coached the leafs only one season, leading them to a 21-34-15 record, and became GM the next season. It was by chance that he bumped into Hockey Night in Canada host Ted Darling in 1969 and was asked if he could do color commentary for a Montreal Canadiens' game the next night" and presto, Howie Meeker's next career was born. Howie Meeker became one of the most popular analysts in Canada with his colorful phrases and squeals of delight. Howie Meeker also became the first hockey analyst to use the telestrator. Howie Meeker was known as a bubbly enthusiastic commentator that captured the imagination of television viewers and his co-workers as a genuine, no-nonsense hockey expert. Howie Meeker was the TV analyst at the 1972 Summit series. Howie Meeker was inducted into the Hockey Hall of Fame in 1998 in the Broadcaster's Category, following a 30 year career on Hockey Night in Canada and TSN. Howie Meeker Published "Golly Gee – It's Me: The Howie Meeker Story" in 1999. In their December 24, 1999 issue, The Hockey News named their 100 Most Colorful People in Hockey. Howie Meeker was ranked #76. From his great one liners, to his genuine care for the game from a learning point of view, Howie Meeker has given back to hockey everything he has gained, Howie Meeker is one of hockey's true legends.
Books and Articles
"Golly Gee – It's Me: The Howie Meeker Story"
Awards and Designations
Calder Memorial Trophy as Outstanding Rookie of the Year – 1947
Gordon Sinclair Award for Outspoken Opinions and Integrity in the Field of Broadcasting – 1974
Received Foster Hewitt Memorial Award in recognition of his work on NHL broadcasts – 1998
Career Highlights
Stanley Cup championships – 1947, 1948, 1949, 1951
All-star team appearances – 1947, 1948, 1949
Inducted into Hockey Hall of Fame – 1998
Career Records
Tied NHL record scoring five goals in one game – 1947