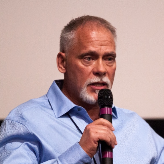 Greg Horvath
Producer, Author, Motivational Speaker
ShareAdd To My FavoritesPrint Profile
Why Wait?
If you are interested in me for your event send a message.
Find out my availability, price, and additional information to help you decide.
Send Message
Profile
It's not who they are that make individuals or organizations great, it is what they have overcome! One of the most effective ways to have people understand and believe this is to expose them to someone who has done it. Greg Horvath is an amazing example of an ordinary person achieving extraordinary results against incredible odds.
Greg Horvath had always dreamed of one day going to college and playing college football. But unable to cope with the effects of a devastating childhood, he turned to alcohol, dropped out of high school and missed his opportunity, decisions that haunted him for years. Despite turning his life around in 1990 and establishing an award-winning career in real estate, Horvath still felt that he had never shed the mistakes of his past. In 1999, after years of planning and training, Horvath took a leap of faith and pursued his seemingly impossible childhood dream.
Unbelievably, in 2000 at age 38, Greg Horvath was accepted at Saddleback College in California and given an opportunity to try out for the football team. Not only did he make the team, but he was named 'Most Inspirational Player' for the 2000 season. Greg was also placed on the President's Honor List for maintaining a 4.0 GPA. It was a dream come true! Horvath's story was so inspirational that it was aired nationally in Canada, and was considered for a 2002 Gemini.
Greg Horvath now works as a motivational speaker for conferences and corporate events. Greg also works in the field of recovery as a renowned interventionist and sober coach. He also works closely with Dan Cronin, the Director of Counseling for the National Hockey League and Major League Soccer. Horvath is the co-creator and co-host of the Let's Talk Recovery Radio Show in Los Angeles and he is also in the preliminary stages of having his life story made into a feature film!
Greg Horvath has discovered his absolute passion for sharing his story and for entertaining and inspiring others to succeed at virtually anything they truly desire, no matter what their past or present circumstance. He is an extremely charismatic individual who has the ability to empower others. Horvath was able to overcome a tremendous amount of adversity to live his dream and because of this, he is becoming one of the most sought-after speakers in North America.
Keynotes and Speaking Topics
Teamwork – There Are No Unimportant Players
Motivation – Unlocking the Power Within
Overcoming Adversity - The power of perseverance and a positive attitude.
Sales – Understanding & Succeeding at Performance Based Selling
Sports – Teamwork/Personal Responsibility
Success in Recovery – Helping addicts see past just being clean & sober
'I Want to Die High' – Incredible stories from Greg's work as an interventionist and sober coach. This very entertaining presentation is great for any recovery related conference.
Ask about Greg's acclaimed athletic and alcohol awareness college presentations.
Films
The Business of Recovery
Documentary ‧ 1h 25m
Producer: Greg Horvarth
Director: Adam Finberg
As drug and alcohol addictions skyrocket, The Business of Recovery examines the untold billions that are being made off of families in crisis. With little regulation or science, the addiction treatment industry has become a cash cow business that continues to grow while the addiction death rates continue to rise. Through unique access to internationally recognized treatment facilities, as well as emotional stories of addicts and their families, the film reveals how the treatment industry in the United States preys on addicts with little more than promises of hope and a huge bill. The film challenges us to reconsider our assumptions about treating addiction and the human cost we will pay by allowing the industry to continue business as usual.
Unfinished Business
Documentary
Producer: Greg Horvarth & Adam Finberg
Director: Adam Finberg
Unfinished Business chronicles Greg Horvath's pursuit of his seemingly impossible dream of playing college football at the age of 38. The film takes you through Greg's physical and emotional journey as he takes a leap of faith to pursue his boyhood dream. You learn through emotional interviews about past mistakes, regrets, his difficulty in understanding and forgiving his father and Greg's desire to become a better father to his own son. Ultimately, he proves that achievement is dependent on one's attitude and the willingness to do whatever it takes, including the ability to forgive and ask for help. He also proves that dreams can come true.
Hope for the Broken Contender
Feature Film
Producer: Greg Horvarth, Chris Scheuerman & Tyson Wiebe
Director: Chris Scheuerman
Hope for the Broken Contender screened opening night at the Calgary International Film Festival and took home the American Express People's Choice. It was made with nothing more than pennies and passion. It is about a young man caught between two worlds, trapped in a dangerous life of crime on the streets and trying to follow his dream of becoming a professional boxer.
Book
Diary of a Sober Companion is, among other things, a voyeuristic look into the world of the rich, famous…and addicted. It is also Greg's journey from a farm boy in Saskatchewan to a sober companion in Malibu, New Orleans, San Francisco, New York, and around the world. But Greg never once thought that his journey as a sober companion would have him waking up to the smell of urine as a drunk client relieves himself near his bed in a five star hotel room in Los Angeles, staring down the barrel of a client's 10mm Glock in New Orleans, or flushing a client's stuff down the toilet at his lawyer's request as NYPD are rushing through their hotel room door.
Awards and Designations
Greg achieved award winning sales status with the world's largest real estate company in the 1990's.
Greg was named the Saddleback College Football Team's 'Most Inspirational Player' for the 2000 season and he was placed on the President's Honor list for maintaining a 4.0 GPA at the age of 38.
In 2002, CBC Sports Journal aired Greg's story, Field of Dreams, nationally in Canada.
CBC Sports Journal and Greg were considered for a 2002 Gemini in the Best Director of a Documentary category for Field of Dreams.
Greg has been selected by the NCAA and certified for their Health and Safety Speakers Grant Program.
In 2006, an intervention Greg performed was part of a story featured on the Oprah Winfrey Show.
In 2007, Greg co-created and continues to co-host the 'Let's Talk Recovery' Radio Show in Los Angeles.
In 2008, Greg was the Executive Producer of the feature film, 'Hope for the Broken Contender', which won the American Express People's Choice Award at the Calgary International Film Festival.
In 2009, Jasonite Pictures in association with Greg Horvath Productions produced Unfinished Business. This documentary takes you through Horvath's physical and emotional journey to fulfill his dream. A preview can be seen at: www.unfinishedbusinessmovie.com.