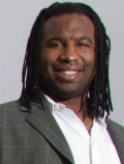 Georges Laraque
13 Year NHL Veteran known as
ShareAdd To My FavoritesPrint Profile
Why Wait?
If you are interested in me for your event send a message.
Find out my availability, price, and additional information to help you decide.
Send Message
Profile
Georges Laraque is a 13-year NHL veteran who has played for the Edmonton Oilers, Phoenix Coyotes, Pittsburgh Penguins and Montreal Canadiens. He was known as "The Rock", acting primarily as an enforcer on these teams. His best-selling biography, The Story of The NHL's Unlikeliest Tough Guy, goes well beyond the stereotype of the tough guy. It is the story of a true humanitarian, an engaged citizen not only in his immediate community, but on the global stage as well. The son of Haitian immigrants, Laraque campaigned for World Vision to help with Haitian relief and the rebuilding of the Grace Children's Hospital in Port-au-Prince. Today, Georges is involved in many charities, including the Mira Foundation which provides dogs for disabled individuals and the Team In Training for blood cancer research.
A committed believer in animal rights and a spokesperson for PETA, he became a vegan in 2009 and has, ever since, contributed to the vegetarian movement in Montreal by becoming co-owner of two raw vegan restaurants called Crudessence and Rise Kombucha, a raw, organic, vegan, fairtrade fermented tea beverage company. A conscientious environmentalist, Laraque stepped up in July 2010 to be the deputy leader of the Green Party.
All in all, Georges Laraque is a man of strong convictions. As an avid follower of the Dalai Lama, he believes that: "Just as we should cultivate gentle and peaceful relations with our fellow human beings, we should also extend that same kind of attitude towards the natural environment."
Since his retirement, Georges has been very active as a speaker. He has been invited to hundreds of events and has spoken on various topics such as sports, motivation, racism, bullying, veganism, business, charities and politics.
Hockey Career

On September 15, 1997 in a pre-season NHL game, Laraque fought established heavyweight fighter Donald Brashear of the Vancouver Canucks in an attempt to impress the coaching staff. On November 15, 1997, Laraque was called up to the NHL and took part in his first career fight against Todd Simpson of the Calgary Flames. Laraque won the fight and would be victorious in four others before being reassigned to the AHL.
A year later, despite concerns about his skating, Laraque showed enough at the AHL-level for Edmonton to bring him to the NHL on a regular basis.
Although he was something of a power forward in junior hockey, Laraque is considered primarily as an enforcer at the NHL level. His 6'3″ frame and his habit of fighting made him one of the most feared forwards in the league. He was unanimously awarded the 'Best Fighter' award from The Hockey News in 2003. He was named the number one enforcer by Sports Illustrated in 2008. Despite his reputation as a fighting-only player, Laraque has had offensive bursts during his career and on February 21, 2000, Laraque scored a hat trick against the Los Angeles Kings and was also named the game's first star. While playing with the Oilers, Laraque was famous for his "Laraque Leap", in which he would smash his body against the glass at the Rexall Place after the Oilers scored a goal.
On July 5, 2006, Laraque signed with the Phoenix Coyotes. He scored his first goal as a Coyote against Edmonton on October 26, 2006. Laraque was then traded to the Pittsburgh Penguins for the 2007-08 season for agitating prospect Daniel Carcillo. Laraque's former junior coach and Penguins coach at the time Michel Therrien was heavily involved in this decision and believed that he was needed to protect the young stars in Sidney Crosby and Evgeni Malkin.
On July 3, 2008, Laraque signed a contract as a free agent with the Montreal Canadiens. He elected to wear number 17 with the Canadiens rather than his usual 27, which was Alex Kovalev's number at the time. One of the main reasons why Montreal sought Laraque was to add toughness; in the previous year's playoffs, they had been outplayed physically by the Philadelphia Flyers, and in the first round, they had difficulty countering Boston Bruin Milan Lucic. On January 21, 2010 the Montreal Canadiens released Laraque and announced they were planning to buy out the remainder of his contract. He subsequently announced his retirement from professional hockey
Television / Film / Radio
On May 21, 2010, Laraque squared off with world welterweight mixed martial arts champion Georges St-Pierre for three rounds of grappling for takedowns on TSN TV show Off The Record. Laraque did not score a single takedown.
In 2010, Laraque appeared in Season 2 of CBC's Battle of the Blades with partner Anabelle Langlois
Books and Articles
On November 8, 2011, Laraque released his first book, an autobiography entitled Georges Laraque: The story of the NHL's unlikliest tough guy.