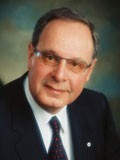 Frank O'Dea
Co-Founder of Second Cup Coffee. From Homeless to Successful Entrepreneur.
ShareAdd To My FavoritesPrint Profile
Why Wait?
If you are interested in me for your event send a message.
Find out my availability, price, and additional information to help you decide.
Send Message
Profile
From the Bowery to the Boardroom. In his early teens, Frank O'Dea's life went off the rails into a downward spiral. Within a few years, he was living in 50-cent-a-night flop houses in Toronto's bowery district where just surviving was about all one could do in a day. At 23 years of age, with the courage to hope for a better life, and the spirit to forge ahead, Frank began the long road back. Fighting all of those obstacles that hold back the homeless, the impoverished and the destitute, he overcame and rejoined society. Then, if that were not enough, he turned that same determination to the obstacles of life that challenges all of us. Within a few short years, he co-founded The Second Cup, which soon became the largest chain of gourmet coffees and teas in the country. Building on that success, he went on to co-found Proshred Security, a company that pioneered the entire industry of on-site document destruction. This company soon became an international organization with franchised operations in Canada, Europe and the United States.
Frank O'Dea is a wonderful speaker who inspires and motivates his audiences wherever he speaks. His presentation is a highlight of any event. As a founder of the Second Cup, he has instant credibility because anyone who has ever had a cup of coffee or tea in this country knows that company. When his listeners hear that he had been living on the streets only a few years before, and that he also went on to found other businesses and charitable foundations, they want to know his "secret of success". This story of triumph over adversity is a genuine local Canadian success story that people are thrilled to be associated with. Event organizers find that a presentation by Frank O'Dea is a high point because he delivers a message that motivates and empowers his audiences.
Keynotes and Speaking Topics
The Power of Hope Vision Action – Frank demonstrates this power by using his own story as a real-life experience of hope, courage, change and persistence. Audiences from all walks of life identify with this very real story of achievement.
The Spirit of the Entrepreneur – Frank shares with his audience how he started his various businesses. The engaging story of the early years of the Second Cup gives his listeners the inside story on the growth of a Canadian retail landmark. He also talks of the challenges that he overcame in starting Proshred Security, a document shredding service, before people knew they needed such a service. He will describe the unique solutions that he developed in financing very expensive, one-of-a-kind equipment that conventional lenders wouldn't touch. The result became a national business stretching across Canada and into the USA and Europe. He will talk of his role in starting Samaritan Air, Ontario's first fixed-wing air ambulance service, which expanded into a major emergency transporter of auto parts. Frank leaves his audience with fine examples of where one person can go, and provides a roadmap on how to get there.
Blue Ocean Strategy – Frank O'Dea will introduce you to the powerful theory and practical applications of Blue Ocean Strategy, creating uncontested market space. In today's overcrowded markets, competing head-to-head and searching for competitive advantage results in nothing but a bloody" red ocean" of rivals fighting for a shrinking pool of profit. You will be introduced to a radically different way of thinking about business strategy, and learn how companies have created "blue oceans" by challenging conventional assumptions about their industries and making the competition irrelevant. With actual examples of these companies that have created uncontested market space by rewriting the rules of established industries, the presentation will show you that the methodology exists, along with the tools, for companies to create their own "blue oceans".
Books and Articles
When All You Have is Hope