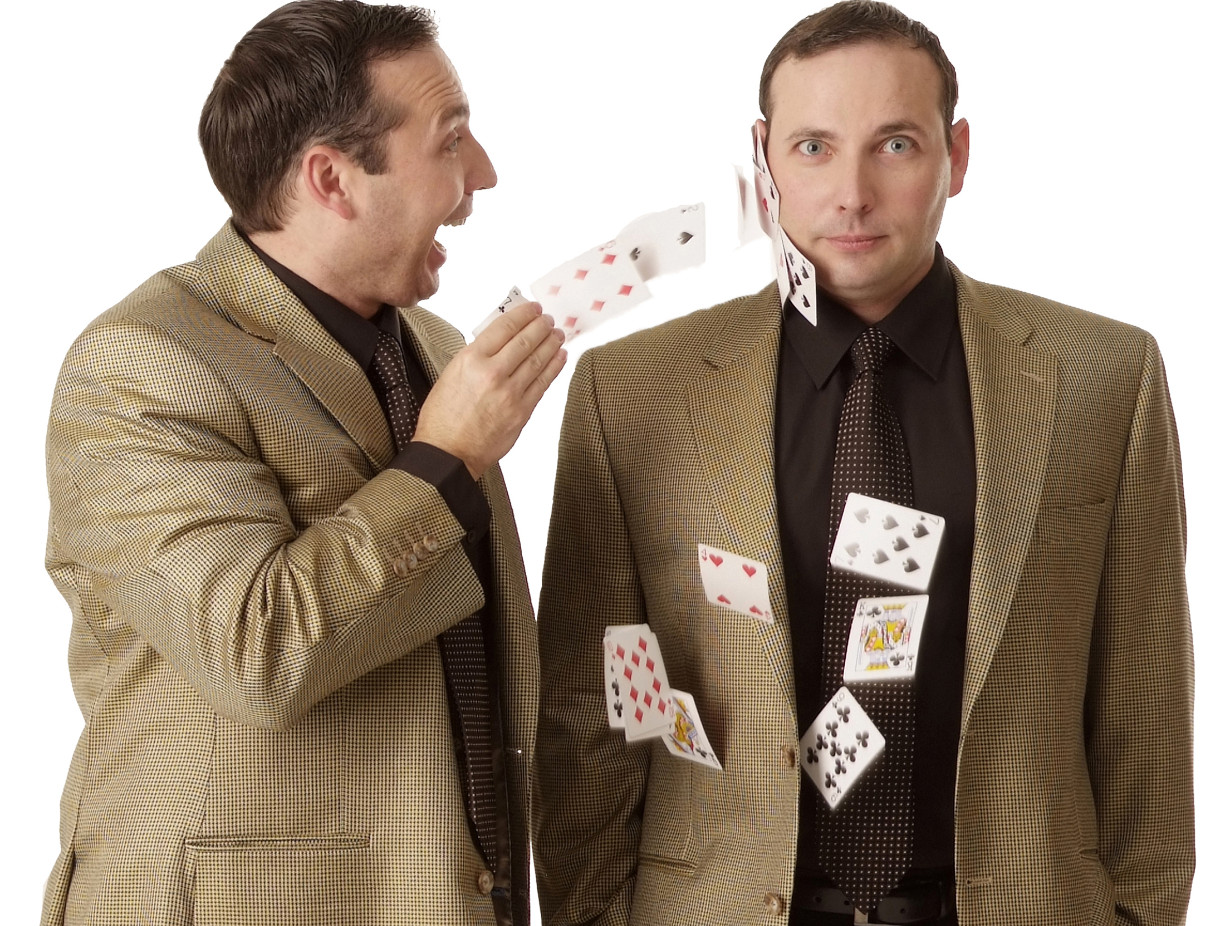 Double Vision
Twin Magic and Comedy
ShareAdd To My FavoritesPrint Profile
Why Wait?
If you are interested in me for your event send a message.
Find out my availability, price, and additional information to help you decide.
Send Message
Profile
You want the entertainment at your event to be outstanding and memorable...welcome to Double Vision, Twin Magic and Comedy.
Unique: Canada's ONLY identical twin magic act!
Memorable: A one of a kind act with one of a kind magic and humour.
Clean Comedy: Comedy so clean they can eat off of it, and they do!
Improvisation skills: The twins interact with the crowd and fun begins from there...anything can happen and every show is unique!
Over 25 years of experience: Conferences, Trade Shows, Hospitality Suites, State Fairs, Airplanes...you name it, Double Vision has done it.
International act: Los Angeles, Chicago, Columbia (SC), Las Vegas, Columbus (Ohio)...and a bunch of places in between.
Right To The Point: There are many great acts out there but no one (or two) like Double Vision. They bring their "eh" game (they're Canadian... eh) to every performance.
Think twin and win!
Award winning stage shows combining comedy and amazing sleight of hand magic! When quality counts, you can depend on Double Vision to deliver a clean performance with audience participation, laughter and astounding magic. Performing professionally for over 25 years across North America, Michael and Mitchell have the experience you need to help make your event a fantastic success. Their stage show takes full advantage of the identical twin aspect. Whether demonstrating the incredibly funny mental connection between the twins or releasing the 'hidden entertainer' in their volunteers, Double Vision's stage show is something you won't soon forget. If you're having a cocktail hour or event where a stage show would not be suitable, Double Vision's incredible strolling magic is a perfect icebreaker that will be remembered for a very long time. It's like an individual, private show for each group of people they perform for. When you experience magic happening in your own hands, you'll know why Mitchell and Michael have won awards for their sleight of hand magic. Why have just another magic act, when you can experience Double Vision!