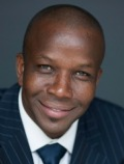 Donovan Bailey
World and Olympic Champion. Keynote Speaker
ShareAdd To My FavoritesPrint Profile
Why Wait?
If you are interested in me for your event send a message.
Find out my availability, price, and additional information to help you decide.
Send Message
Profile
July 27, 1996. Atlanta, Georgia. The Olympic Games. When the starter pistol went off that sultry summer night, things changed forever. In a magnificent blend of explosive power and awesome athleticism, Donovan Bailey confirmed what every one in the world already knew, this was "The World's Fastest Man".
It's a title that's pure and simple. It goes all the way back to ancient Greece and the founding principles upon which the Olympic Games began – "Higher, Faster, Stronger". The first of only two men ever to hold all three titles of Olympic Champion, World Champion and World Record Holder, Track and Field News declared Donovan Bailey "Sprinter of the Decade" (1990's), and one of the world's all-time greatest and most dominant sprinters.
Born in Manchester, Jamaica, Donovan Bailey arrived in Canada at age 13. Growing up in Canada, his game was basketball, not track. He never even gave track a thought. Instead, following graduation from high school, Donovan went on to college where he graduated with a diploma in Business Administration. From there he worked in the brokerage industry, and then started up his own telemarketing firm (but then Donovan has always been a self-starter). It wasn't until 1994 – at age 26 (ancient by sport standards) – that Donovan, while watching the Canadian Track Championships, thought to himself: "I can run faster than that". And he could. The rest, as they say, is history. After eight weeks of intensive training Donovan was ranked among the top sprinters in the world, winning both the Commonwealth Games and Francophone Games in Paris, France. Then, in 1995, only one year after he began full-time training, Donovan Bailey captured the World Championships in Goteborg, Sweden, making him the pre-eminent sprinter in the world. By 1996 the world's eyes were on Donovan Bailey – and he let no one down. In what can only be described as a meteoric and unprecedented rise to athletic greatness, Donovan won Gold at the Atlanta Olympic Games, setting a new World and Olympic Record in the process. Today, Donovan Bailey still holds the Olympic Record for the 100 meters, and the World Record for the 50 meters. He also proudly claims the titles of: Canadian Champion; Pan American Games Champion; Goodwill Games Champion; Commonwealth Games Champion; World Champion; Olympic Champion.
Donovan is also an inspirational speaker, passionate about the world of amateur sport and athletes and what can be accomplished through hard work and dedication. He enjoys speaking to audiences of all sizes and welcomes the opportunity to do so.
Career Records
50 meters indoor, 5.56 – World Record
100 meters, 9.84 – Olympic & Canadian Record
200 meters, 20.39, 20.14w – Personal Best
4×100 relay, 37.69 – Canadian Record
Recorded the fastest speed for a human being – 27.1 mph / 43.6 kph