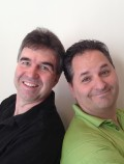 Don't Mind Us
Comedy Improv
ShareAdd To My FavoritesPrint Profile
Why Wait?
If you are interested in me for your event send a message.
Find out my availability, price, and additional information to help you decide.
Send Message
Profile
Don't Mind Us is a two person clean comedy improv show based entirely on audience suggestion. Both Don't Mind Us members, Mark and Lee, each have over ten years of clean comedy improv experience. These two talented, professional performers have entertained countless corporate and convention audiences with their unique, tasteful and thoroughly enjoyable clean improv comedy. Just ask to see the many references and testimonials from previous clients. Don't Mind Us can present a customized, individualized and personalized show for your organization. A variety of humorous set-ups can be used to involve key people from your organization. Specific situations from your workplace or your industry can be worked into this clean improv comedy show.