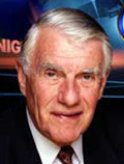 Dick Irvin
Hockey Hall of Fame Broadcaster
ShareAdd To My FavoritesPrint Profile
Why Wait?
If you are interested in me for your event send a message.
Find out my availability, price, and additional information to help you decide.
Send Message
Profile
Hockey Hall of Fame member Dick Irvin has been part of CBC's hockey broadcasting team for over 32 years. To viewers of HOCKEY NIGHT IN CANADA, Dick Irivn is best known for his coverage of Montreal Canadiens games. In fact, he has also traveled with the Habs for more than 20 years as their radio broadcaster, and has covered more than 2,000 NHL games on TV and radio.
Dick Irvin is an award-winning Broadcaster and an accomplished author. Last year, Dick Irvin followed up his best-selling "The Habs" and "Behind the Bench" with "In the Crease: Goaltenders Look at Life in the NHL."
HOCKEY NIGHT IN CANADA has been a part of Dick Irvin's life for almost as long as he can remember. Growing up in Alberta in the '30s and '40s, he used to listen to Foster Hewitt's broadcasts on the radio. Dick Irivn started watching HOCKEY NIGHT IN CANADA right from the first broadcast in 1952. In fact, his father, Dick Irvin Sr., was coaching the Habs in the first game televised from Montreal.
Books and Articles
"The Habs" – Author
"Behind the Bench" – Author
"In the Crease: Goaltenders Look at Life in the NHL." – Author
Awards and Designations
Foster Hewitt Award for excellence in hockey broadcasting