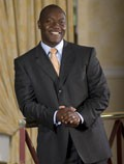 Devon Harris
Inspiration for Disney's Hit Movie 'Cool Runnings'. Jamaican Bobsled Team Member
ShareAdd To My FavoritesPrint Profile
Why Wait?
If you are interested in me for your event send a message.
Find out my availability, price, and additional information to help you decide.
Send Message
Profile
What does it take to escape a life of abject poverty in one of the world's most violent ghettos?
From the slums of Kingston, Jamaica to the Royal Military Academy Sandhurst, England; from a barefoot boy's dream of winning a track race to a young man's membership on his country's first Olympic bobsled team ' Devon Harris's inspiring tale of personal triumph over adversity and the uplifting story behind Jamaica's first Winter Olympic team will captivate your audience. So engaging was the story of the misfit band of athletes from the tropical island of Jamaica at the 1988 Winter Olympic Games that it served as the basis for the hit Disney movie, 'Cool Runnings.' While the movie captured the heart and soul of a team that didn't know the meaning of the word 'impossible,' the personal story of Devon Harris is a testament of one man's refusal to accept the limitations placed on him by birth or society. Born on Christmas Day, 1964, the greatest gift Devon ever received was the belief that a positive attitude and a never say die
philosophy would carry him farther than a sense of injustice and a heart filled with anger. Devon Harris also learned at an early age that one can either spill tears of laughter or tears of rage when faced with life's many obstacles. When not bringing his captivating message of inspiration and hope to audiences across the globe, Devon serves as an ambassador for Olympic Aid ' an athlete-driven, humanitarian non-profit organization using sport and play to enhance child development and build community capacity for youth in refugee camps and disadvantaged communities throughout the world.
Keynotes and Speaking Topics
Devon's keynote presentations focus on the importance of having a dream, persistence in overcoming adversity, embracing change and not allowing others to define the limits of your success. He delivers programs that are comprehensively customized, inspirational and vividly descriptive; drawing strong analogies to his experiences growing up in a violent ghetto environment and achieving the status of a three-time Olympic athlete and member of the first Jamaican Bobsled Team. Devon offers a masterful blend of entertainment and meaningful content that is fun, effective and highly motivational. Audiences love Devon because he truly speaks from the heart and has an uncanny ability to connect on a deep level. Devon's fascinating personal story combined with his captivating speaking ability move audiences to be more introspective. They leave more focused on their own goals and dreams; clinging to a renewed sense that they can attain higher levels of personal achievement.
Hot Lessons from Cool Runnings Suitable for a kick-off or closing presentation, this motivational program draws from the powerful experiences of the real life Jamaican Bobsled Team as well as those espoused in the Disney blockbuster movie 'Cool Runnings.' This dynamic presentation is as light hearted as it is poignant. The audience will leave laughing, inspired and with a better understanding of what it takes to achieve the impossible.
The Power and Magic of Teamwork This program is also suitable as an event kickoff. As the Captain of the Jamaican Bobsled Team and a former Captain in the Jamaica Defence Force, Devon knows what it takes to develop, inspire and direct a winning team. An incredible program for leadership and management training seminars, attendees will translate the challenges and triumphs of the first Jamaican Bobsled Team into easily applicable lessons for today's managers and tomorrow's leaders.
Career Highlights
Three-time Winter Olympian
Captain ' Jamaican Bobsled Team