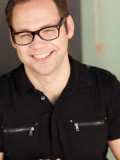 Derick Lengwenus
Award Winning Stand-up Comedian
ShareAdd To My FavoritesPrint Profile
Why Wait?
If you are interested in me for your event send a message.
Find out my availability, price, and additional information to help you decide.
Send Message
Profile
Derick Lengwenus emerged onto the Montreal comedy scene in 1999 and immediately attracted attention. In 2001 he earned his first spot in the prestigious Just For Laughs Festival where his style was described as clever writing with a quick left turn into absurdity. While stand-up comedy has been the focus of Derick's career, he has earned many accolades for his acting performances. Among his highlights include appearances in the Montreal Fringe Festival, the New York Film Festival, and the Montreal Film Festival. In 2003, Derick created a one-man show blending theatre with live streaming video and premiered it in the New Media Festival in Halifax. Derick continues to build his reputation in Montreal. Since 2004 he has been voted among the top ten comedians in Montreal through a reader poll conducted by Mirror Magazine, the city's leading arts journal. His cutting edge comedy has attracted the attention of renowned comedian Andy Kindler and consequently earned him a return spot in the 2004 Just for Laughs Festival. In 2005 the Mirror Magazine declared him Montreal's reigning king of deadpan for the creation of his one-man show titled Dr. Avocado and his Fruity Friends. Most recently Derick recorded a 1-hour comedy special for CTV that originally aired in the spring of 2006 and continues to air on the Comedy Network. The special helped earn Derick national recognition and ultimately led to a Canadian Comedy Award nomination for "Best Newcomer."
Television / Film / Radio
Comedy Now! – CTV and Comedy Network
Notable Live Appearances
Just for Laughs – Montreal International Comedy Festival – 4 appearances.
Awards and Designations
Nominated for "Best Newcomer" – Canadian Comedy Awards
Career Highlights
Finalist at the San Francisco Comedy Competition (previous winners list include Robin Williams, Dane Cook)
Winner of Best Comedy in the Montreal Fringe Festival
Winner of the Audience Choice Award at the International Eat My Shorts festival