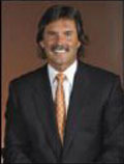 Dennis Eckersley
MLB Hall of Fame Pitcher and Speaker
ShareAdd To My FavoritesPrint Profile
Why Wait?
If you are interested in me for your event send a message.
Find out my availability, price, and additional information to help you decide.
Send Message
Profile
Dennis Eckersley nicknamed "Eck," was a Major League Baseball player elected to Baseball Hall of Fame in 2004 (his first year of eligibility). He enjoyed success as a starter, but he gained his fame as a closer, becoming the first of only two pitchers in Major League history to have both a 20-win season and a 50-save season in a career. He is also noted as the pitcher who gave up Kirk Gibson's game-winning home run in Game 1 of the 1988 World Series. The A's used Eckersley almost exclusively for the ninth inning and inserted him regardless of the pressure or game situation. Instead of being a fireman or a mop-up man, Eckersley became a one-inning pitcher. Starters were no longer expected to finish games; there was another pitcher who was coming into the game in the ninth inning, no matter what. Although the idea of a dedicated closer was hardly new (Lee Smith was already closing for the Cubs by the time Eck was converted to the closer role), it was rejected outright by old-school purists; it took Tony La Russa and Eckersley to popularize it. Eckersley's incredible short-term dominance of the position was perhaps the most influential aspect of this popularization. He was seen to shut down a game after the eighth inning; he was fresh, cocky, and always hit his spots. His pointed finger at a struck-out batter and his glare became well-known after he and Boston's Dwight Evans famously battled during the 1988 and 1990 playoffs. After Eckersley, every team wanted a pitcher who would end a game after eight innings, save their starters from overextending themselves, and give their fans something exciting to look to in a late game. Although the value of a closer is still debatable, Eckersley's influence is indisputable; by 2006, the notion of a team without a dedicated closer seemed as ridiculous as a pre-Eckersley team with one. Although the idea of a specialty, one-inning game closer was the suggestion of his Oakland A's manager, Tony La Russa, it was Eckersley who put the 'cool' in the role of the closer.
Cleveland Indians (1975-1977)
Boston Red Sox (1978-1984, 1998)
Chicago Cubs (1984-1986)
Oakland Athletics (1987-1995)
St. Louis Cardinals (1996-1997)
Awards and Designations
American League Cy Young Award winner (1992)
American League MVP (1992)
American League Rolaids Relief Man of the Year award winner (1988, 1992)
Career Highlights
Elected to the Boston Red Sox Hall of Fame (2004)
Elected to the Baseball Hall of Fame (2004)
All-Star (1977, 1982, 1988, 1990, 1991, 1992)
American League Championship Series MVP (1988)
In 1999, he ranked Number 98 on The Sporting News' list of the 100 Greatest Baseball Players and was nominated as a finalist for the Major League Baseball "All-Century Team."
Pitched no-hitter (May 30, 1977)