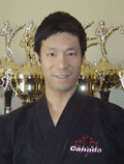 Clint Cora
Motivational & Diversity Speaker, Author, Karate World Champion
ShareAdd To My FavoritesPrint Profile
Why Wait?
If you are interested in me for your event send a message.
Find out my availability, price, and additional information to help you decide.
Send Message
Profile
Professional motivational keynote speaker and author Clint Cora's life so far has been fascinating to say the very least. During his early years growing up in Toronto, Canada, he had to endure racism and emotional abuse. But these were nothing compared to the personal tragedy of his mother's suicide. Despite these enormous hardships, Clint weathered the storms of adversity and went on to become a Karate World Champion while having a successful corporate career.
Based on his unique journey, Clint Cora is certainly somebody who knows about motivation and how to use it to become successful. He has been at rock bottom and not only has he survived, but he rose to the top. And now his mission is to help others overcome challenges and achieve success. Clint's strategies for success and his motivational messages will help your group whether it's a corporation, association, college, university or youth audience, rise to the top as well.
Keynotes and Speaking Topics
Kick Down Diversity Barriers For Business & Personal Success Since diversity is reality and here to stay, the development of skills to enable your people to function well in a diverse world is important for success. Here are some details of this keynote program: What diversity is and why it is important for business success; Real life inspiring diversity success examples from the business world; Multiple benefits of developing diversity skills; Awareness of stereotypes and areas to avoid in diversity; How to kick down barriers and develop skills useful in a diverse world; Fun group activities to explore diversity.
The Life Champion In You – Overcoming Challenges & Achieving Success This is Clint Cora's signature motivational talk in keynote form and it covers many of the success principles from his book with the same title. This program covers the following: Mindset and attitude required for your business as well as personal success; Real life inspiring comfort zone expansion examples with demonstration; Macro and micro tools for effective success planning as well as monitoring; Effective solutions to overcome possible challenges stopping success; Tips to help your group become successful all round life champions; Multiple universal lessons from Clint's own journey as well as from others; Entertaining martial arts and weaponry to illustrate key messages.
Books and Articles
The Life Champion In You
How To Get A Dream Job In Pharmaceutical Sales – Direct Inside Advice and Guidance From a Sales Manager
Career Highlights
MBA degree.
Canadian and World Martial Arts Championships
CSIA Level 2 certified ski instructor
NAUI Master Diver certified scuba diver – has dived all over the world and has had exciting close encounters with dolphins, rays as well as sharks.
A musician since childhood, Clint plays the piano, guitar and fronted rock bands during his teen to university years.