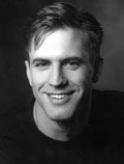 Chris Molineux
Stand-up Comedian
ShareAdd To My FavoritesPrint Profile
Why Wait?
If you are interested in me for your event send a message.
Find out my availability, price, and additional information to help you decide.
Send Message
Profile
Chris Molineux's show is a quantum leap past just clean and clever. Since 1986, his high energy and intelligent brand of humour has been popular with corporate and convention crowds. The show bristles with comic invention covering a wide variety of subjects and ideas. Chris Molineux has a great sense of physical comedy, an amazingly elastic voice and a sensual feel for the absurd that makes him truly unique. Chris Molineux is a master of the voice and his accents and impressions are an excellent complement to his comedy material and audience involvement improv. All this combined with the ability to respect his audience and knowing what will work best in any situation, ensures an excellent show. Over Chris's years of performing he has worked with the likes of Jerry Seinfeld, Robin Williams, Jim Carrey, Ellen Degeneres, Norm McDonald, and Ryan Stiles. Chris Molineux will custom tailor shows for specific events.
Notable Live Appearances
Montreal Just For Laughs International Comedy Festival