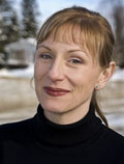 Brigitte Gall
Stand-up Comedian
ShareAdd To My FavoritesPrint Profile
Why Wait?
If you are interested in me for your event send a message.
Find out my availability, price, and additional information to help you decide.
Send Message
Profile
The poster-girl for the Comedy Network, Brigitte Gall was born in Creelman, Saskatchewan, and is proud of her Prairie roots – in fact, a lot of her funniest material is based on her years growing up in Regina. Brigitte is a trained actress who has appeared in several short films, but she is best known for her hilarious brand of Prairie girl comedy. She has performed in comedy clubs all over North America and adapted her comedy show to television for the Comedy Network and CTV. In 1998, Brigitte Gall found herself listed in the Who's Who of Canadian Women. Her comedy show utilizes her abilities to sing and play acoustic guitar.
Notable Live Appearances
Co-hosts the 1995 CFL Grey Cup in Regina, Saskatchewan.