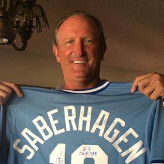 Bret Saberhagen
World Series Champion and MVP, 3x All-Star, 2x AL Cy Young Award
ShareAdd To My FavoritesPrint Profile
Why Wait?
If you are interested in me for your event send a message.
Find out my availability, price, and additional information to help you decide.
Send Message
Profile
Bret Saberhagen was drafted out of high school by the Kansas City Royals in the 19th round of the 1982 Major League Baseball Draft and made his major league debut on April 4, 1984. He made an immediate impact, compiling a 10–11 record and a 3.48 ERA. The Royals made the postseason but lost to the Detroit Tigers. Saberhagen pitched well in his first postseason start, giving up two runs in eight innings.
In 1985, the 21-year-old Saberhagen established himself as the ace of the staff. He went 20–6 with a 2.87 ERA and won the American League Cy Young Award. He led the Royals to a World Series championship and was named MVP of the World Series, pitching two complete games, including a shutout in Game 7.
Bret Saberhagen developed an odd pattern of successful seasons in odd-numbered years (1985, 1987, 1989, 1991) and poor performances in even-numbered years. In 1986, he was 7–12 with a 4.12 ERA. In 1987, another odd-numbered year, Saberhagen had an excellent year, going 18–10 with a 3.36 ERA. That record, however, was disappointing because Saberhagen had entered the All-Star break with a 15–3 record and another Cy Young Award seemingly in the bag. He pitched in the 1987 Major League Baseball All-Star Game, but he suffered a shoulder injury that hampered his second-half performance.
In 1991, Bret Saberhagen went 13–8 with a 3.07 ERA. On August 26, he no-hit the Chicago White Sox 7-0 at Royals Stadium; to date, the no-hitter is the last thrown by a Royal.
Bret appeared as himself in the 1994 Brendan Fraser movie The Scout.
Career Highlights
3× All-Star (1987, 1990, 1994)
World Series champion (1985)
2× AL Cy Young Award (1985, 1989)
World Series MVP (1985)
Gold Glove Award (1989)
MLB wins leader (1989)
AL ERA leader (1989)
Pitched a no-hitter on August 26, 1991
Teams
Kansas City Royals (1984–1991)
New York Mets (1992–1995)
Colorado Rockies (1995)
Boston Red Sox (1997–1999, 2001)