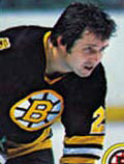 Brad Park
NHL Hockey Hall of Fame Defenceman
ShareAdd To My FavoritesPrint Profile
Why Wait?
If you are interested in me for your event send a message.
Find out my availability, price, and additional information to help you decide.
Send Message
Profile
Brad Park played defence for the New York Rangers, Boston Bruins, and Detroit Red Wings from 1968 – 1985. Brad Park was a great defenceman who had a flair for every aspect of his game. If it was not for Bobby Orr and Denis Potvin, Brad would have owned the James Norris Trophy as the league's top defenceman during the first half of his career. During his 18 year NHL career, Brad was known as the consummate team player and rock solid defenceman. He suffered but played through severe knee injuries throughout his career. Brad began his road to the NHL and hockey's Hall of Fame by playing his junior hockey with his hometown Toronto Marlboros. He was subsequently drafted second overall by the New York Rangers in the 1966 Amateur Draft. Brad played seven and a half seasons with the Rangers, helping them to the Stanley Cup finals in 1971-72 and recording a career best 82 points in 1973-74. Brad was traded to the Boston Bruins in 1975-76 where he served another seven and a half years with distinction. Brad helped the Bruins reach the finals in back to back seasons 1976-77 and 1977-78. Brad was traded to the Detroit Red Wings in 1983 and decided to retire after the 1984-85 season. Since his retirement from hockey, Brad has been a partner and owner of several business ventures. In his spare time, he coaches hockey in the winter, golfs and visits his cottage in the summer, and speaks at celebrity dinners and fund raisers.
Awards and Designations
Masterton Trophy for sportsmanship and dedication to hockey – 1984
Career Highlights
Inducted into Hockey Hall of Fame – 1988
Named to NHL's First All-Star Team – five times
Stanley Cup Finals – 1971-72, 1976-77, 1977-78
NHL's James Norris Trophy (top defenceman) – runner-up six times
Recorded 896 points (213 goals and 683 assists) in 1,113 NHL games
Recorded 125 points (35 goals and 90 assists) in 161 playoff games
Recorded 82 points in best season – 1973-74