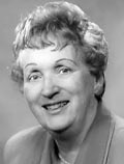 Betty K. Cooper
Speak With Pow!-R
ShareAdd To My FavoritesPrint Profile
Why Wait?
If you are interested in me for your event send a message.
Find out my availability, price, and additional information to help you decide.
Send Message
Profile
Betty K. Cooper is an international specialist in effective, powerful communications. She has over 30 years communicating experience including daily radio commentator for CBC Radio, TV Host/Producer, Executive Producer (Current Affairs, CBC TV), script writer, college professor, professional speaker, trainer, coach, and author.
Betty K. Cooper is recognized as one of the foremost Canadian communication coaches working one-to-one with CEO's and senior management. Betty K. Cooper is the author of two books "Speak With Power" and "Your PipeLine to Pow!-R-Ful Presentations".
Keynotes and Speaking Topics
Speak With POW!-R
Making Meetings Move
Conceive, Believe, Achieve
Managing the Media
POW!-R-Ful Presentations
POW!-R-Ful Business Writing
POW!-R-Ful Telephone Talk
POW!-R-Ful Interviewing
Executive Speaking & Presentation Skills
Listening Skills
Making Stress a Positive Power in Your Life