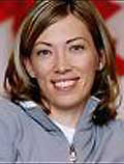 Beckie Scott
Canadian Olympic Medalist
ShareAdd To My FavoritesPrint Profile
Why Wait?
If you are interested in me for your event send a message.
Find out my availability, price, and additional information to help you decide.
Send Message
Profile
As Canada's undisputed Cross-Country sprint queen, Beckie Scott has proven that she belongs in the ranks of the world's elite cross-country skiers and sprint racers. At the 2002 Olympic Winter Games, Beckie became the first Canadian to win an Olympic medal in cross-country skiing, when she was awarded the bronze medal after a gutsy race to the finish. She was later presented with the gold medal, after positive drug tests by the gold and silver medallists.
As an advocate for fair play and an outspoken critic on the use of performance enhancing drugs, Beckie is an inspiration to all in sports and business. She motivates audiences with her story of perseverance, her courage to stand up for high principles, and her commitment to success through fair play.
Career Highlights
Three time Olympian. 1998 Nagano Japan, 2002 Salt Lake City USA, 2006 Turin Italty.
Olympic Gold Medal 2002. Beckie is the first Canadian and first North American woman to win an Olympic medal in cross-country skiing.
Has won seventeen World Cup medals in sprint, individual, and relay cross-country skiing events.