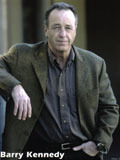 Barry Kennedy
Host of Discovery Channel's 'Out In The Cold'
ShareAdd To My FavoritesPrint Profile
Why Wait?
If you are interested in me for your event send a message.
Find out my availability, price, and additional information to help you decide.
Send Message
Profile
Former fighter pilot flies again ' but this time the thrill comes from making people laugh.
Barry Kennedy grew up in Winnipeg, graduated from high school in Richmond, BC, and subsequently Royal Roads Military College in Victoria with a degree in Physics and Oceanography. Following which he was an Air Force pilot in Saskatchewan, Alberta, Ontario, Qu'bec and on Vancouver Island. Barry had the opportunity to suss out the geography and culture of our land even before he started acting and performing stand-up comedy in every nook and cranny Canada has to offer.
Barry Kennedy has appeared in over thirty movies and TV productions, headlined at Canadian and US clubs from coast to coast and overseas, and spoken at functions for everyone from golfers to Golan Heights peacekeeping troops, corporate executives to trial lawyers.
Barry has three published novels'Through the Deadfall, The Hindmost and most recently Rock Varnish.
Barry can currently be seen as the host of Discovery Channel's Out in the Cold, in which he has the honour of indulging his passion for the country by meeting people who live in work in frigid climes from the Yukon to Hudson Bay, and Newfoundland to the high arctic of Ellesmere Island.
Books and Articles
Through the Deadfall
The Hindmost
Rock Varnish