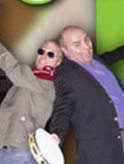 Baby Boomers The Show
Revisit the 50s, 60s, and 70s
ShareAdd To My FavoritesPrint Profile
Why Wait?
If you are interested in me for your event send a message.
Find out my availability, price, and additional information to help you decide.
Send Message
Profile
Baby Boomers the show is for you, if any of the following describe you; Were you born between 1946 and 1964? Ever made out at the Drive Inn? Own a beanbag chair? Listen to an eight track? Play Twister? Wear something tie dyed? If you loved Lucy, or dreamed of Jeanie, then this show is for you. Simon B. Cotter and Scott Harris revisit the 50s, 60s and 70s while bringing back the two man comedy team to theatres across North America. Hip, slick, and hilarious, with a little bit of music thrown in. Simon and Scott celebrate the fads, events and accomplishments of the "Me" generation. So drop in, let your hair down, and check out the scene, your parents would hate it!
SCOTT HARRIS One of the top corporate comedians in the country, Scott Harris has worked in all of the entertainment mediums. He has written and performed in television commercials, acted in films, and hosted his own radio show. Once nominated for "best stand up comic" and a regular at the Montreal comedy festivals, Scott has also shared stages with Russell Peters, Tom Jones and Howie Mandel. But the only person he wants to share a stage with now is the other half of Baby Boomers "The Show", his long time friend and co-star Mr. Simon B. Cotter
SIMON B. COTTER Simon B. Cotter uses a healthy dose of wit, candor and charm to entertain audiences around the globe. His ability to relate intuitively with any audience has made him a global favourite who regularly performs in Canada, the USA, Ireland, Jamaica, Denmark and China. Over the years, Simon has appeared on CBC TV as part of the Just for Laughs Gala, CTV & The Comedy Network in Comedy Now, and internationally on Evening at the Improv, The Comedy Store TV Show, Live and Jongleurs, and BBC's The Stand Up Show. The first Canadian to end up in the finals of the San Francisco Comedy Festival, Simon's hysterical anecdotes on relationships, family and friendship make him a sure fire hit with any audience. Simon B. Cotter and Scott Harris, with a combined fifty-one years of making people laugh as solo acts, now join forces to become "The official comedy duo" of the "ME" Generation!