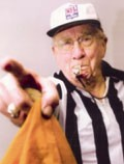 Art Holst
Former NFL Official. Successful Business Owner. Speaker Hall of Fame
ShareAdd To My FavoritesPrint Profile
Why Wait?
If you are interested in me for your event send a message.
Find out my availability, price, and additional information to help you decide.
Send Message
Profile
Art is best known for his humor and as a "Sunday Zebra" officiating for the National Football League for 15 years. He officiated 4 Championship games and 2 Super Bowls. Art currently serves on the supervisory staff as an observer, rating college officials' field performance. He is the author of Sunday Zebras.
Lack of sales? Increased competition? Lack of leadership?
Lack of motivation? Lack of creativity? All of these problems confront executives who ask renowned speaker Art Holst to address their employees. Art knows that he cannot solve such problems with a single speech or seminar. But in his vigorous, humor-laced speeches he focuses on original, effective ways to achieve
excellence. He describes the keys to effective communication. He stresses the importance of accurate and timely decision making. And in doing so he addresses the attitudes that underlie all of the problems listed above. For a few minutes or a few hours Art Holst helps people step back, take a look at themselves and their organization. He entertains them. He informs them. He inspires them. In doing so, he helps you build a better organization. When Art Holst speaks, people listen. Whatever the reason ' his deep, resonant voice, his anecdotes about life in the National Football League, his self-deprecating humor, his talent as a master story-teller, his genuine belief that people can do better in their work and in their lives if they follow a few sensible rules ' whatever the reason, when Art Holst speaks, people laugh, applaud'and listen.
That is why Art has been asked by organizations large and small to give more than 3000 speeches and seminars over the past three decades. That is why two-thirds of his talks are repeat performances. That is why when many companies need someone to keynote a conference or windup a convention by inspiring and
entertaining an audience, they call on Art Holst.
A legend in the speaking industry, Art Holst's broad background provides the foundation for his messages spiced with inspiration, humor, and poetry.
Art's ideas and anecdotes spring from a lifetime of experience.
As a U.S. Army Captain in wartime he learned out of necessity in dangerous situations 'to curb criticism of weaknesses of people and be grateful for their strengths.' Ten years in sales of building materials taught him a variety of secrets about success in business and how, when and why people are motivated to act. As owner and operator of three Dairy Queen franchises he honed his skills as a goal oriented executive. As Administrator of the Forest Park
Foundation in Peoria, Illinois, he spent twelve years helping to expand parks and recreation facilities in his community. As an organizer and board member of the Peoria Heights Bank, he polished his organizational skills. And as a member of the Economic Security
Committee of the U.S. Chamber of Commerce, he further demonstrated his commitment to public service.
But perhaps most important of all to Art's growth as a speaker were his years as a 'Sunday Zebra.' He officiated at four NFL Championship games and proudly wears rings from Super Bowls VI and XII. His work as an NFL line judge taught him the importance of
staying power, teamwork, clear-headed decisions, and never ever settling for second best. And about having a good time doing it.
'Making on the spot, crisp, game-changing decisions is routine for an NFL Official,' says Art. 'But managers do much the same every
day, and there's no replay!' Art wrote about his NFL experiences in his book, Sunday Zebras. He is also a co-author of Insights into Excellence and Speaking Secrets of the Masters. He is a charter inductee of the Speaker Hall of Fame (CPAE) and a member
of the Speaker Roundtable, consisting of twenty of the world's outstanding speakers.
Speaking Topics
The Challenge of Excellence – Team Building/Change/MotivationMaking changes and problems work FOR you in your business. Creating and developing a TEAM that recognizes and respects the "Dignity of Difference" in the various talents needed in any vibrant organization or business.
Scoring Touchdowns in Selling – Sales Rapid paced presentation comparing the game of football to the "game" of selling; how to relate product features to benefits, and conscientious customer service; good ideas and lots of humor.
Funny Thing About Football- Humor A humorous talk comparing football to life with appropriate anecdotes from Art's 15 years as a National Football League official.
How to Make a Clear, Persuasive, Informative, Presentation – Communication Skills Effective Communication How to communicate better through the spoken or written word. Painting word "pictures" using similes and metaphors. More problems are created by mis-communications than any other one thing and this presentation helps to enable people to get the message intended across to others.
Books and Articles
Sunday Zebras
Insights into Excellence
Speaking Secrets of the Masters
Career Highlights
Officiated at four NFL Championship games.
Proudly wears rings from Super Bowls VI and XII
Speaker Hall of Fame
Career Records
Officiated at four NFL Championship games.
Proudly wears rings from Super Bowls VI and XII
Speaker Hall of Fame