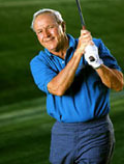 Arnold Palmer
Golf Great, Industry Leader
ShareAdd To My FavoritesPrint Profile
Why Wait?
If you are interested in me for your event send a message.
Find out my availability, price, and additional information to help you decide.
Send Message
September 26, 2016. We are saddened by the loss of a great legend to the game of golf and the sports world. Arnold Palmer is one of the greatest sports legends of all time. He will be missed.
Profile
Every sport has its ultimate legend. Baseball has Babe Ruth, basketball has Michael Jordan and golf has Arnold Palmer. Arnold Palmer is golf.
Palmer is synonymous with the sport and with the ideals of how the greatest champions carry themselves: joyous and humble in victory, gracious and good-natured in defeat. He was the game's most exciting personality and for fans everywhere, their first golf hero. He set off a nationwide golf revolution, and 35 years later, he is still considered by many as the #1 All-American sportsman.
Arnold Palmer endeared himself to fans through his charismatic and down-to-earth style that led him to 92 championships to date. He scored seven of those wins in three of golf's Grand Slam tournaments: the British Open, the U.S. Open and the Masters Tournament. When the game first flickered over television sets everywhere, Palmer was the first to stir audiences with his come-from-behind wins. He helped start a nationwide love of golf that has turned it into one of the most popular sports.
Palmer has been inducted into the World Golf Hall of Fame, the American Golf Hall of Fame and the PGA Hall of Fame. For 20 years, he has lent his celebrity to charitable causes including his work as Honorary National Chairman of the March of Dimes. He recently authored A Golfer's Life with Jim Dodson.
With his universal appeal that transcends sports, Palmer's no-nonsense insights into success and challenges are tremendously effective. His "everyman" style in life and in sports makes Arnold Palmer one of the most engaging and accessible public figures in sports.
Career Highlights
1960's Athlete of the Decade
World Golf Hall of Fame
Four-time Masters Tournament champion