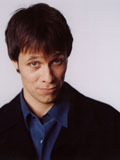 Alan Park
Award Winning Stand-up Comedian. CBC's 'Air Farce' Cast Member
ShareAdd To My FavoritesPrint Profile
Why Wait?
If you are interested in me for your event send a message.
Find out my availability, price, and additional information to help you decide.
Send Message
Profile
A cross between a stand-up comic and sit-down satirist, Alan Park was a regular cast member on CBC's Air Farce. Alan's commentaries quickly became one of the most anticipated segments of the show as he mocked reality and digging behind the headlines to find the vein of humour or the object of weird but witty attack.
A very accomplished writer and comedian. Alan Park has starred in a number of his own television comedy specials including CBC's Comics, Comedy Now! on CTV and the Comedy Network, and appeared on his own Just For Laughs Gala. A multiple Canadian Comedy Award nominee for Best Male Stand-Up, TV performnace and Writing, and winner of the Western Canada Just For Laughs Comedy Competition, Alan has headlined in comedy clubs across North America and the U.K.
Alan Park also can perform a Barack Obama character for your event.
Notable Live Appearances
Halifax Comedy Festival – Featured Halifax
Just For Laughs Comedy Festival – Featured Montreal
Winnipeg Comedy Festival – Featured Winnipeg
Toronto Comedy Festival – Featured Toronto
Awards and Designations
2009 Canadian Comedy Award Nominee 'Best Performance by a Male ' Television'
2006 Canadian Comedy Award Nominee 'Best Male Stand-up'
2005 Canadian Comedy Award Nominee 'Best Male Stand-up'
Winner of the Western Canada Just For Laughs Comedy Festival Contest